Preliminary discussions about the 2019 Colours of Our Community float costumes held between founder Markham Lane and producer Miguel Lamedo, lead to the decision to not only use the modern iconography
of the rainbo
w flag in the costume designs for the 80 person float but to also pay homage to the pink triangle and do that with a lead Queen. 
A budget was set aside and a brief was supplied to a number of potential suppliers;
"In 2019 we lead with our 'Pink Triangle Queen', (PTQ) a homage that pays respect to the gay rights icon prevalent in the late 1970's and 1980's. Here's what Wikipedia mentions:
"The cast member assigned to the role of the 'Pink Triangle Queen' is Tommii Tran AKA Faux Fur, who will take on the regal role as an androgynous representative of the entire LGBTQI community and all they represent - all races and all genders.
"We envision PTQ wearing a couture gown 'fit for a queen', full of pink 'bling' materials in the shape of the inverted pink triangle. It needs to be iconic and never seen before, historic and 'more couture than costume', with inspirations brought together from Alexander McQueen, Vivienne Westwood and Lady Gaga. 
"The PTQ will also be wearing a massive Swarovski crystal encrusted crown that incorporates a vertical third-eye in the centre position, with the inverted pink triangle as the 'pupil'. This will be designed by Miguel Lamedo. 
"The two elements must work in perfect harmony and the two designers must work together to strike the ideal balance.
"If the PTQ outfit of couture dress and crown is immortalised in the media or in the next Mardi Gras Museum, then we have triumphed!"
Lewis Oswald replied to the brief with an outstanding submission, which was subsequently accepted and realised for the Colours of Our Community float in the 2019 Sydney Mardi Gras Parade.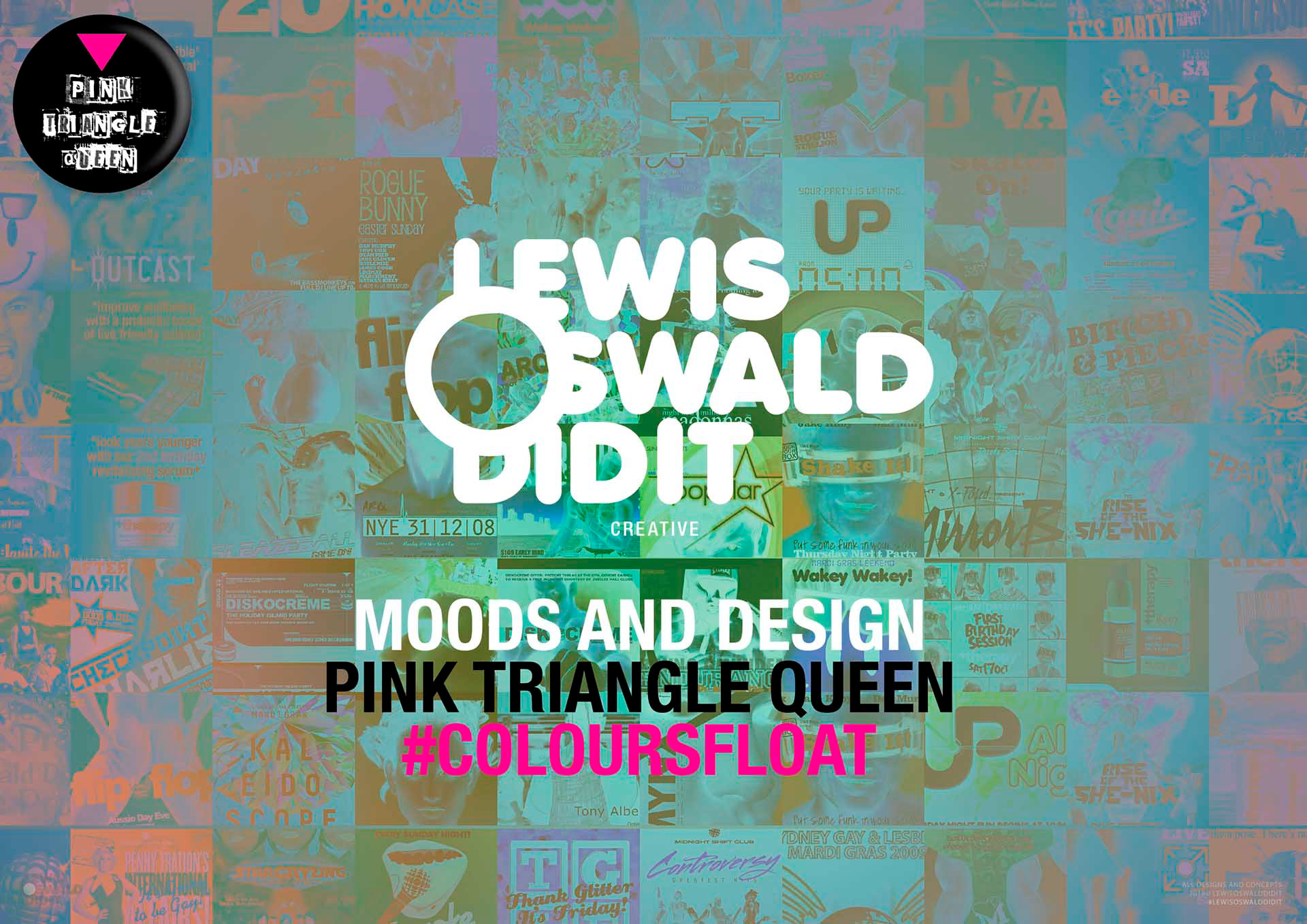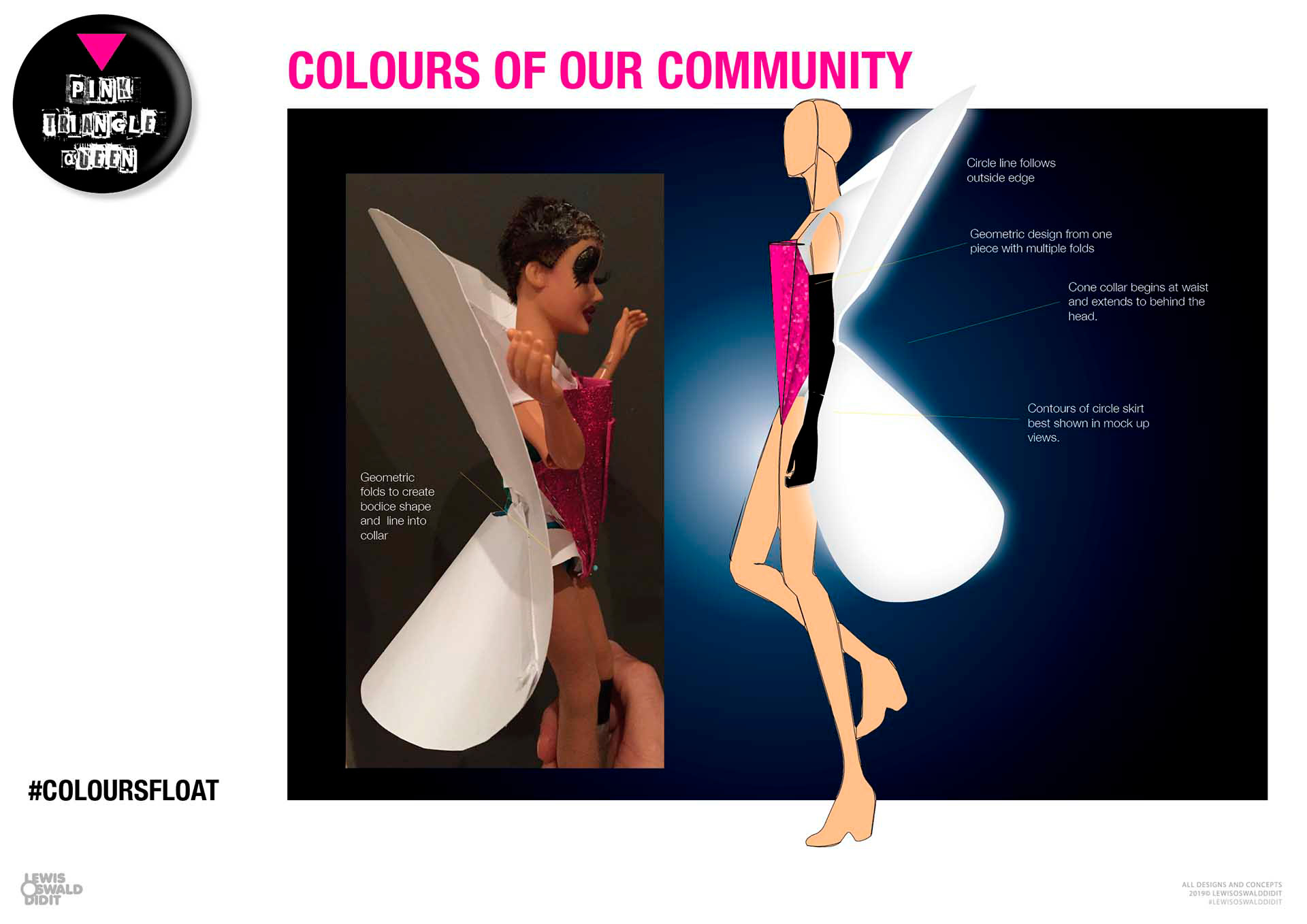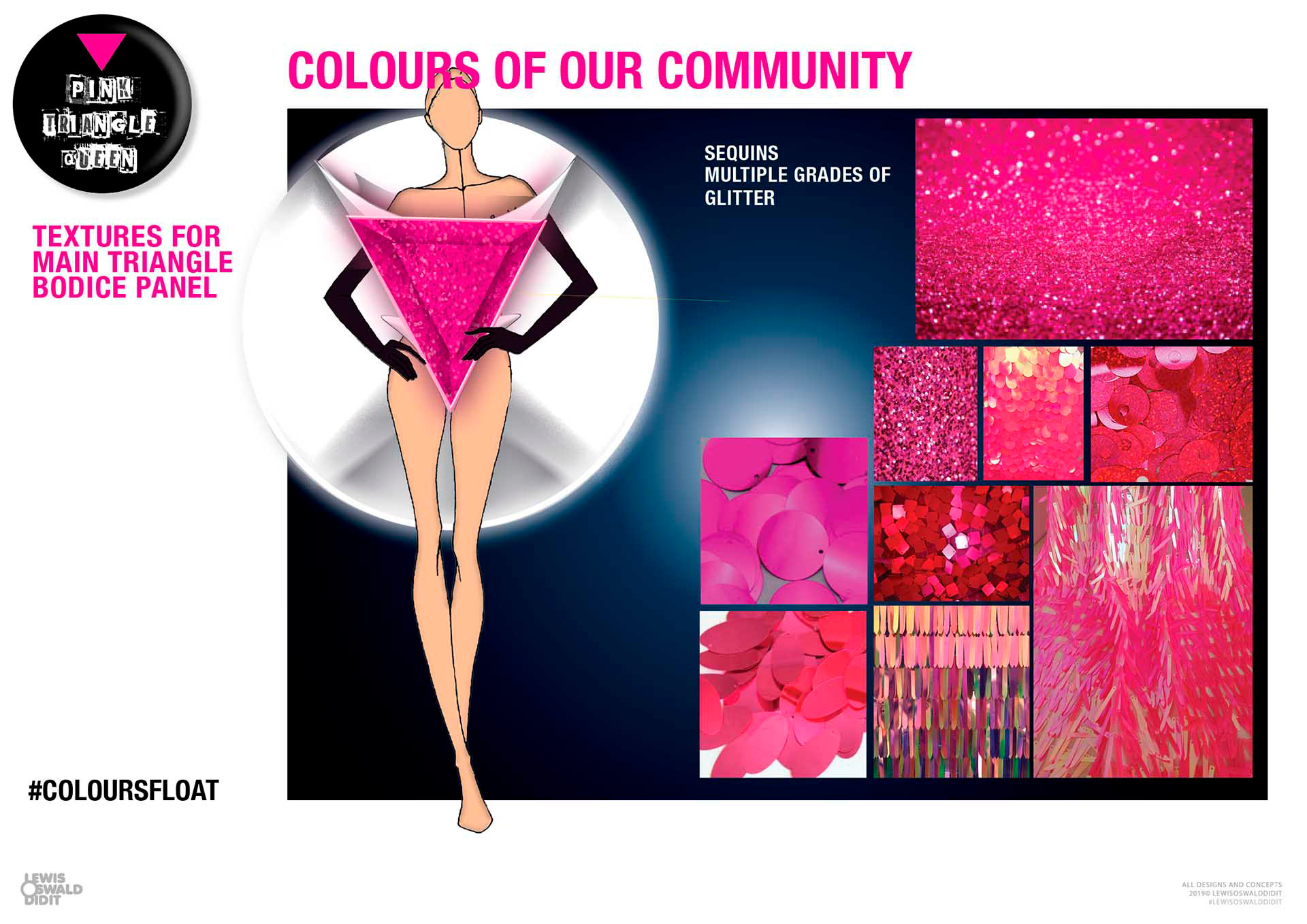 A photo shoot was conducted a few days before the 2019 Sydney Mardi Gras Parade in the studio of
photographer Markham Lane
which highlights the exemplary work conducted by both Miguel Lamedo and
Lewis Oswald
in achieving the vision of the Pink Triangle Queen, a role conducted by Faux Fur.